Betty Reiter is a unique Dallas boutique in "The Plaza at Preston Center" that sells luxury European sportswear.
Most designers are exclusive, and represent: Italy, Germany, Japan, England, France and the USA.
Betty has had her red door open since 1994.
~
THE STORY:
For 20 years this Dallas boutique has catered to women with a sense of style and a flair for clean, European designer fashion. A native of Paris, Betty has fashion in her blood, as her father was a sought-after fashion photographer in the City of Light. That, along with growing up in the most stylish city in the world, helped shape her chic vision.

Exclusive lines such as Krizia, and, most notably, Yeohlee, have that 'je ne sais quoi' that droves of ladies wish to have in their wardrobes. You can expect beautifully sculptural clothing - exquisite fabrics - urban style clothing - which have a deliberate artful quality to them.

In 1969 Betty moved from Paris to New York and worked for the prestigious Yves St. Laurent for three years.
Betty came to Dallas in 1981 where she immediately joined the Loretta Blum Boutique in Highland Park. Betty still travels to Paris and Milan several times a year finding the latest trends and fashions.
~
THE STORE:
At Betty Reiter, you will find exclusive women's European sportswear and accessories. Betty also carries fashions from her own private label and New York designers such as Yeohlee. At Betty Reiter
you will always find the latest trends right off the fashion runways.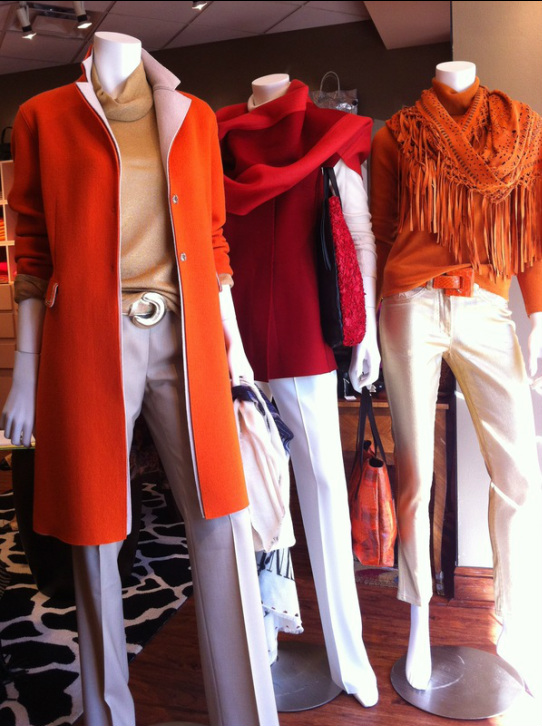 Bonjour Fall...

It might be 100 degrees outside but Fall 14 has arrived at Betty Reiter
From Palmer Harding, amazing white neoprene jackets' with a shredded paper motif and chartreuse accents
The newest shape of this season ...A crop sweatshirt ....
Metallic, open weave, 2 tone
Lots of red
Dynamite black dresses
Cozy Italian cardigans and fabulous Eco suede jeans
And of course the smartest light knit tops and dresses from Yeohlee



Our Designers:

Yeohlee
Basler
Dusan
Palmer-Harding
Annette Gortz
Damir Doma
Lie Sang Bong
Ter Et Bantine
La Fee Parisienne
Barbara May
Gabag
Fabiana Filippi
Blumarine
Tricot Chic
Mela Rosa
Krizia
Margot Rozanska
Passage Maison
Hidy GN
Les Copains
Zanella
Catherine Andre



JOIN US BEHIND THE RED DOOR AT........



WHAT SOME OF OUR CLIENTS ARE SAYING:


"I was thrilled to find the Betty Reiter boutique at Preston and northwest highway. It has been years since I have experienced the pleasure of shopping in a small intimate store and I was amazed at the amount of merchandise that appealed to me. (My husband will soon know how much I bought) The staff and Betty herself (the owner) could not have been more professional and the atmosphere was warm, comfortable and friendly. Unusual for a high priced store to make you feel so much at home and the advice was honest. Beautiful!! Sophisticated!!"



"You can't miss the big red door to this small shop, and though it seems at first like the stock is limited, on the contrary, there are LIMITLESS possibilities - all of which lead to feeling confident and comfortable. Betty's style is truly European chic, and her "no-frills" styling leaves a clean, bold impression!"



"We Texas women, who have a taste for quiet luxury, adore Betty's selection of minimalist chic designs and exclusive brands."



"For fashionable designer fashion with a European flair, Betty Reiter is a local favorite that's sure to charm you. Chic European lines including Krizia can be found at this little Parisian boutique, where the owner was born and raised in Paris. Bringing the charm and beauty of the City of Lights to the City of Cowboys, Betty Reiter just gets it right."



"Run. Don't walk to Betty Reiter's Last Call. Go early. Stay late. And save me some Krizia."


Here is how to find us ...

Betty Reiter, Inc. 4030 Villanova Street Dallas Tx 75225 214 373 9990 e: BettyReiter@att.net w: BettyReiter.com
A Texas Corporation Copyright 2014